Kelly O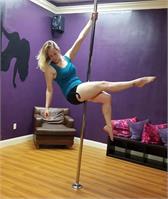 Kelly started with us at Dakini back in January of 2017, after a friend recommended our studio to her as a great workout class. She initially wanted a fun way to lose weight for her wedding, but after one month of classes with us, Kelly knew she was hooked for life! She has earned her brown belt in Tae Kwon Doe, and although she has no prior dance experience, Kelly took to our movement and free dance right away. In May of 2018, Kelly wanted to begin teaching at Dakini to share her feeling of lightness and empowerment with all of our students. She hopes to encourage beginner students to find their own movement style by sharing and exploring different combinations and styles of dance. Kelly is currently a substitute teacher for our Dakini Movement team.
Kelly O instructs the following:
Learn the basic techniques of pole dancing. Includes: spins, climbs, inversions, transitional moves, and floor work. The class runs for 60 minutes, and is appropriate for absolute beginners, those who are new to pole, and those looking to refresh basic techniques. Pay with your Groupon or Beginner Package. For a limited time Signature contracts and packages can be used as payment as well. Preregister. Space is limited.




Pole Flow intertwines pole with fluid motion. Students work at their own level to incorporate several elements into a dance sequence. Open to all levels, but not recommended for beginners. Pole Flow allows students a chance to be creative and grow in their movement in a fun, safe, and empowering way.

Pole Flow runs for 90 minutes and includes a warm up, pole and movement instructions, and choreographed and/or improvised dance routines. The instructor will offer variations for the different skill levels in class.