Alexis V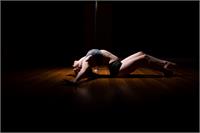 Alexis V instructs the following:
Pole Tech for focuses on the technical aspects of pole movements, such as grips and holds, spins, climbing, and inversions. This class is appropriate for anyone, but not recommended to beginners (who have taken less than 10 beginner classes.) Ask your instructor if this class is right for you.

Pole Tech runs for 75 minutes. Your instructor will guide you through a warm up, followed by instructions in pole movements.

Pay for this class with your Signature Contract or Package.




1 hour class featuring an intense warm up followed by dynamic stretched with the intention of developing splits and backbends. Pay with your contract, package, or trial membership. Open to all levels.