Amy D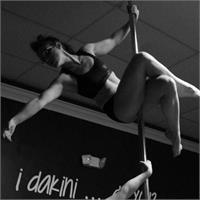 Amy has been dancing in one form or another since she was 5, and when she stumbled upon Dakini in January 2013, she fell in love. Pole dancing was a new form of movement, expression, and strength to help her heal, de-stress, and grow. She loves the strength, creativity, support, and freedom of expression that the women of Dakini cultivate.
Amy D instructs the following:
Learn the basic techniques of pole dancing. Includes: spins, climbs, inversions, transitional moves, and floor work. The class runs for 60 minutes, and is appropriate for absolute beginners, those who are new to pole, and those looking to refresh basic techniques. Pay with your Groupon or Beginner Package. For a limited time Signature contracts and packages can be used as payment as well. Preregister. Space is limited.




Complete Pole alternates between the technical and fluid aspects of movement. Spend 4 weeks studying a group of techniques, and practicing pole tricks in all of their forms and variations. Then, spend 4 weeks applying those techniques into movement.