Complete Pole
This class is taught by: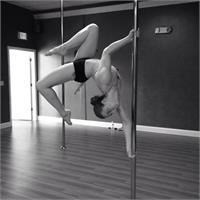 Sydney started her Dakini journey at Onyx Mind Body in 2010 and fell in love with it after her first class and continues to love it even more as her journey continues. As a child, Sydney practiced gymnastics non-competitively up until the end of high school when she decided she was stuck in a rut with her practice. While looking for another experience to channel that energy and remain active, she found Dakini Aerial Movement. The movement was everything she had been hoping for and more. Through Dakini, Sydney found a true passion for a movement and for teaching and is thrilled to be able to share this passion with other women and lead them through their own exhilarating Dakini journey.
Complete Pole alternates between the technical and fluid aspects of movement. Spend 4 weeks studying a group of techniques, and practicing pole tricks in all of their forms and variations. Then, spend 4 weeks applying those techniques into movement.