Magnus Labbe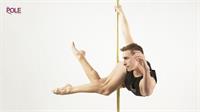 Magnus Labbe instructs the following:
CONTEMPORARY POLE'OGRAPHY In this special and creative contemporary pole class by Magnus is inspired from modern dance techniques. Learn how to flow around the pole using release techniques from the modern dance world and explore a language of flow movement. In the class we will do a contemporary choreography using the pole and we will be spinning, rolling and dancing on the floor and in the air. Please bring socks and kneepads for protection.




MAGNUS' SECRET TRICKS AND COMBOS This workshop has it all. This is Magnus' favourite tricks and combos. You will be climbing, dropping, inverting, rotating, spinning and more in this fun and challenging workshop on static pole.