Julia B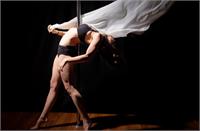 Julia was introduced to Dakini by her mother, who is also an active member of the community. Though she did not have a dance or gymnastics background, she took to Dakini immediately. Throughout the past 6 years she has evolved her practice, exploring her movement and pushing her boundaries (and has earned a few battle scars to show for it!). Pole fulfills her physically through all the strength she has gained and also creatively through learning all the new tricks that are invented daily. She loves the freedom that pole encourages and has found a second home with her Dakini family. Julia is currently a substitute teacher for our Dakini Movement team.
Julia B instructs the following:
Best suited for seasoned practitioners. This workshop style class gives you the opportunity to use the space to practice techniques, as well as get input from others.




Learn the basic techniques of pole dancing. Includes: spins, climbs, inversions, transitional moves, and floor work. The class runs for 60 minutes, and is appropriate for absolute beginners, those who are new to pole, and those looking to refresh basic techniques. Pay with your Groupon or Beginner Package. For a limited time Signature contracts and packages can be used as payment as well. Preregister. Space is limited.




Pole Flow intertwines pole with fluid motion. Students work at their own level to incorporate several elements into a dance sequence. Open to all levels, but not recommended for beginners. Pole Flow allows students a chance to be creative and grow in their movement in a fun, safe, and empowering way.

Pole Flow runs for 90 minutes and includes a warm up, pole and movement instructions, and choreographed and/or improvised dance routines. The instructor will offer variations for the different skill levels in class.