Crystal Fitzpatrick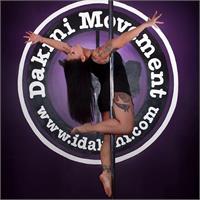 Crystal found Dakini Movement and its' wonderful community of women while searching for a different way to exercise that could sustain her interest for longer than few months at a time. She started her pole dancing and fitness journey in March of 2013 through a Dakini Movement Introductory class. After watching the 2 instructors' demo dance during the intro class, she was hooked immediately. Throughout her practice, she has learned to love and cherish her body for what it can do and not focus so much on how it looks. Thus far, she has competed in 4 pole competitions and have won gold, silver, and bronze medals in various categories. Enthusiastic about pole dancing from day one, Crystal eventually decided to become an instructor at Dakini Movement Studio in 2016 so that she can share the love she has for the movement with other people. She is grateful to be a part of Dakini Movement's community of loving, kind, and supportive women.
Crystal Fitzpatrick instructs the following:
Pole Flow intertwines pole with fluid motion. Students work at their own level to incorporate several elements into a dance sequence. Open to all levels, but not recommended for beginners. Pole Flow allows students a chance to be creative and grow in their movement in a fun, safe, and empowering way.

Pole Flow runs for 90 minutes and includes a warm up, pole and movement instructions, and choreographed and/or improvised dance routines. The instructor will offer variations for the different skill levels in class.