Pole Tech
This class is taught by:
Amy has been dancing in one form or another since she was 5, and when she stumbled upon Dakini in January 2013, she fell in love. Pole dancing was a new form of movement, expression, and strength to help her heal, de-stress, and grow. She loves the strength, creativity, support, and freedom of expression that the women of Dakini cultivate.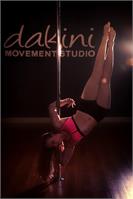 Pole Tech for focuses on the technical aspects of pole movements, such as grips and holds, spins, climbing, and inversions. This class is appropriate for anyone, but not recommended to beginners (who have taken less than 10 beginner classes.) Ask your instructor if this class is right for you.
Pole Tech runs for 75 minutes. Your instructor will guide you through a warm up, followed by instructions in pole movements.
Pay for this class with your Signature Contract or Package.
Upcoming classes: